Acadia University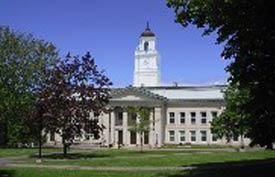 About Acadia University
Acadia University was founded in 1838. The focus of an Acadia education is on the learner. The size of the campus community, the faculty's focus on developing close educational relationships with students, and integration of learning opportunities throughout the University and community support Acadia's ability to provide this personalized education. Acadia provides academic advising and a learning environment in which information technology connects faculty and students in a unique way. Acadia also provides specific learning support systems and services (such as the Vaughan Memorial Library, the Harriet Irving Botanical Gardens, and the new Learning Commons) and abundant opportunities for interactive learning.
Acadia Advantage
The Acadia Advantage program has won worldwide recognition for the University. What is it? The Acadia Advantage is an academic initiative unique in Canada that integrates the use of notebook computers into the undergraduate curriculum. It is an exciting undertaking that enhances the University's teaching and learning environment.
Students enrolling in The Acadia Advantage program aren't expected to be computer whizzes; in fact, they aren't expected to have any specialized computer training at all. It is the job of Acadia's faculty and staff members to bring students up to speed.
Acadia graduates report finding increased opportunities for employment and leadership roles resulting from their high level of familiarity with and sophistication in using information technology.