Brock University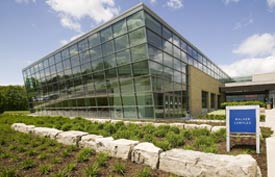 About Brock University
Located at the centre of Canada's beautiful Niagara Peninsula in St. Catharines, Ont., Brock University is the only Canadian university with the distinction of being part of a UNESCO Biosphere Reserve.
The University offers strong undergraduate, graduate and interdisciplinary degree programs that include co-op and other experiential learning opportunities to a student population of more than 17,000.
Brock University graduates continue to enjoy one of the highest employment rates of all Ontario universities at 96.5 per cent. Brock celebrates the success of its 60,000 graduates who apply their degrees to careers throughout Canada and around the world.
The quality of education at Brock University continues to score high marks with students who gave the University a grade of A- in the Globe and Mail's 2007 University Report Card.
Brock students can expect the close, personal attention of a dedicated faculty and the opportunity to explore their academic interests, in collaboration with graduate students, through participation in seminars and labs. They can also take advantage of a growing number of international partnerships that the University continues to foster and develop each year, providing rich experiences in a diverse range of cultures and geographic areas.
The University is expanding the number of programs offered at the undergraduate and graduate levels and is introducing new co-op programs across all Faculties. Brock offers one of the largest selections of co-op programs in Canada.
Brock University Education
The Brock campus is a friendly and inclusive environment. The park-like setting of the University, with its wide-open spaces, offers a number of outdoor activities at any time of year.