Bethany College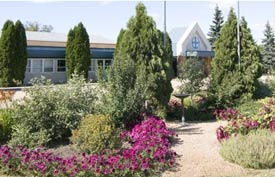 About Bethany College
Bethany College has a rich history. After several years of holding classes in nearby churches, a permanent school was established in Hepburn in 1927. During the forties, this school was named Bethany Bible College and ran a five-year program for those wishing to enter full-time ministry. Former principles and presidents have been: D.B. Esau, J.B. Toews, G.D. Huebert, G.W. Peters, J.H. Epp, A.H. Wieler, Corny Braun, Ike Bergen, Cliff Jantzen, James Nikkel, and Doug Berg.
The mission of Bethany College is to nurture disciple and train leaders to serve. We offer a verity of programs to train our students whether they are seeking a closer relationship with God and a better understanding of the Bible, to enhance skills and become better servants in the local church, or are looking to serve in Christian Mini on a full-time basis.
Twice each year, Bethany�s students can apply for Financial Assistance Awards. Typical awards range from $100-$500. We are grateful to the generous donors and families who have provided endowment funds to Bethany College; most awards are paid from interest generated.
First Year Incentives:
Early Bird Incentive -Students who apply before February 15 will receive $300 off their tuition charges.
Springtime Incentive - Students who apply after February 15 but before May 15 will receive $150 off their tuition charges.
Youth Advance Incentive -Students who attend Youth Advance will be eligible to receive $100 off their tuition charges if their application is received by May 15. (This offer may be combined with the Early Bird Incentive Bursary or the Springtime Incentive Bursary).
Christian Ministry Award -Students whose parent is in or has been in (during the six months prior to registration) full-time Christian ministry (i.e. pastor, missionary, recognized para-church organization) will receive $200.00 off their tuition.
Christian High School Award - Students who have graduated from a Christian high school will receive $100.00 off their tuition.
Saskatchewan Universities